The Effectiveness of A Digital Story pocketbook in Improving emergency medical knowledge at SMK Yasbu Al-qomariyah Sodonghilir Tasikmalaya.
Keywords:
Emergency, BHD, Digital Story Pocketbook
Abstract
An emergency is a life-threatening situation requiring immediate action to avoid disability and even the victim's death. In dealing with accident cases with emergency conditions, business skills are needed to restore and maintain vital organ functions in accident victims or commonly called Basic Life Support (BLS). The literature review is intended to determine the effectiveness of using Digital Story Pocketbooks (DSP) in increasing adolescent knowledge about emergencies at Yasbu Al-Qomariyah Vocational School Sodonghilir, Tasikmalaya Regency. The method used is the descriptive method. Results: the results obtained before being given DSP had perfect criteria of 12.82% and there was an increase in knowledge with perfect criteria to 71.79% after being given DSP. This DSP can help increase knowledge about the emergency of traffic accidents as a medium of education for students which in the future is expected to improve health status in Indonesia and the response can be faster and more precise to minimize the number of accident victims that cause death.
References
Ansari, Rasid et al. 2020. "Media Komik Sebagai Alternatif Media Promosi Kesehatan Seksualitas Remaja." Jurnal Ilmiah Kesehatan 19(01): 10–14.
Badan Pusat Statistik Provinsi Jawa Barat, 2016, Jumlah Kecelakaan Lalu Lintas Menurut Polres dan Kendaraan yang Terlibat di Provinsi Jawa Barat, website,https://jabar.bps.go.id/statictable/2018/03/19/396/jumlah-kecelakaan-lalu-lintas-menurut-polres-dan-kendaraan-yang-terlibat-di-provinsi-jawa-barat-2016.html, on March 19, 2018
Darmawan, Mauludi, and Mohammad Surya. 2017. "Efektivitas Pemanfaatan Media Buku Digital Dalam Meningkatkan Penguasaan Konsep Dan Keterampilan Berpikir Kritis Peserta Didik Melalui Pembelajaran Kontekstual." Jurnal Teknologi Pembelajaran 2(2): 296–313.
Darsini, Darsini, Fahrurrozi Fahrurrozi, and Eko Agus Cahyono. 2019. "Pengetahuan; Artikel Review." Jurnal Keperawatan 12(1): 13.
Dona Tri Juni Parti, D. T. J. P. (2020). Analisis Pemberian Bantuan Hidup Dasar oleh Masyarakat Umum: Sebuah Tinjauan Sistematis (Doctoral dissertation, STIK Bina Husada Palembang).
Fahrurroji, Andhi et al. 2020. "Penangangan Bantuan Hidup Dasar (Bhd) Dan Kesehatan Dan Keselamatan Kerja (K3) Lingkungan Rumah Tangga." Jurnal Pengabdian Kepada Masyarakat 26(1): 47.
Imardiani, I, V Septiany, and T R Perdana. 2020. "EDUKASI PERTOLONGAN PERTAMA PADA KECELAKAAN (P3K) DI LINGKUNGAN KAMPUS PADA MAHASISWA KORPS SUKARELA (KSR) STIKes …." Khidmah 2: 219–27. http://khidmah.ikestmp.ac.id/index.php/khidmah/article/view/326.
Kemenkes, R. I. (2018). Laporan_Nasional_RKD2018_FINAL. pdf. Badan Penelitian dan Pengembangan Kesehatan, 198.
Mulyati, Mumun. 2019. "Alim | Journal of Islamic Educatioan." Alim Journal of Islamic I(2): 389–400.
Murtiyarini, I., Nurti, T., & Sari, L. A. (2019). Efektivitas Media Promosi Kesehatan Terhadap Pengetahuan Remaja Tentang Pendewasaan Usia Perkawinan Di Sma N 9 Kota Jambi. Journal Health & Science: Gorontalo Journal Health and Science Community, 3(2), 71-78.
Muzakkir, M. (2021). Psikologi Dalam Perspektif Pembelajaran.
Saputra, A. D. (2018). Studi Tingkat Kecelakaan Lalu Lintas Jalan di Indonesia Berdasarkan Data KNKT (Komite Nasional Keselamatan Transportasi) dari Tahun 2007-2016. Warta Penelitian Perhubungan, 29(2), 179-190.
Sudarman, Akbar Asfa, Irmiatinarahma Pago. 2019. "Pengaruh PelatihanBantuan Hidup Dasar Terhadap Pengetahuan Siswa Kelas XII Di SMK Baznas Sulsel." Pengaruh Pemberian Virgin Coconut Oil (VCO) terhadap Ruam Popok pada Bayi Firmansyah1, 1(1): 49–58.
Watung, Grace Irene Viodyta. 2021. "Edukasi Pengetahun Dan Pelatihan Bantuan Hidup Dasar Pada Siswa Remaja SMA Negeri 3 Kotamobagu." Community Engagement and Emergence Journal (CEEJ) 2(1)(Fajarwaty 2012): 21–27.
Widyaningsih, Ari, Heni Hirawati, and Wahyu Kristiningrum. 2018. "IbM Smk Perintis 29 Ungaran Dalam Pengkaderan Remaja Untuk Pertolongan Pertama Kegawatdaruratan." 1(1): 46–50.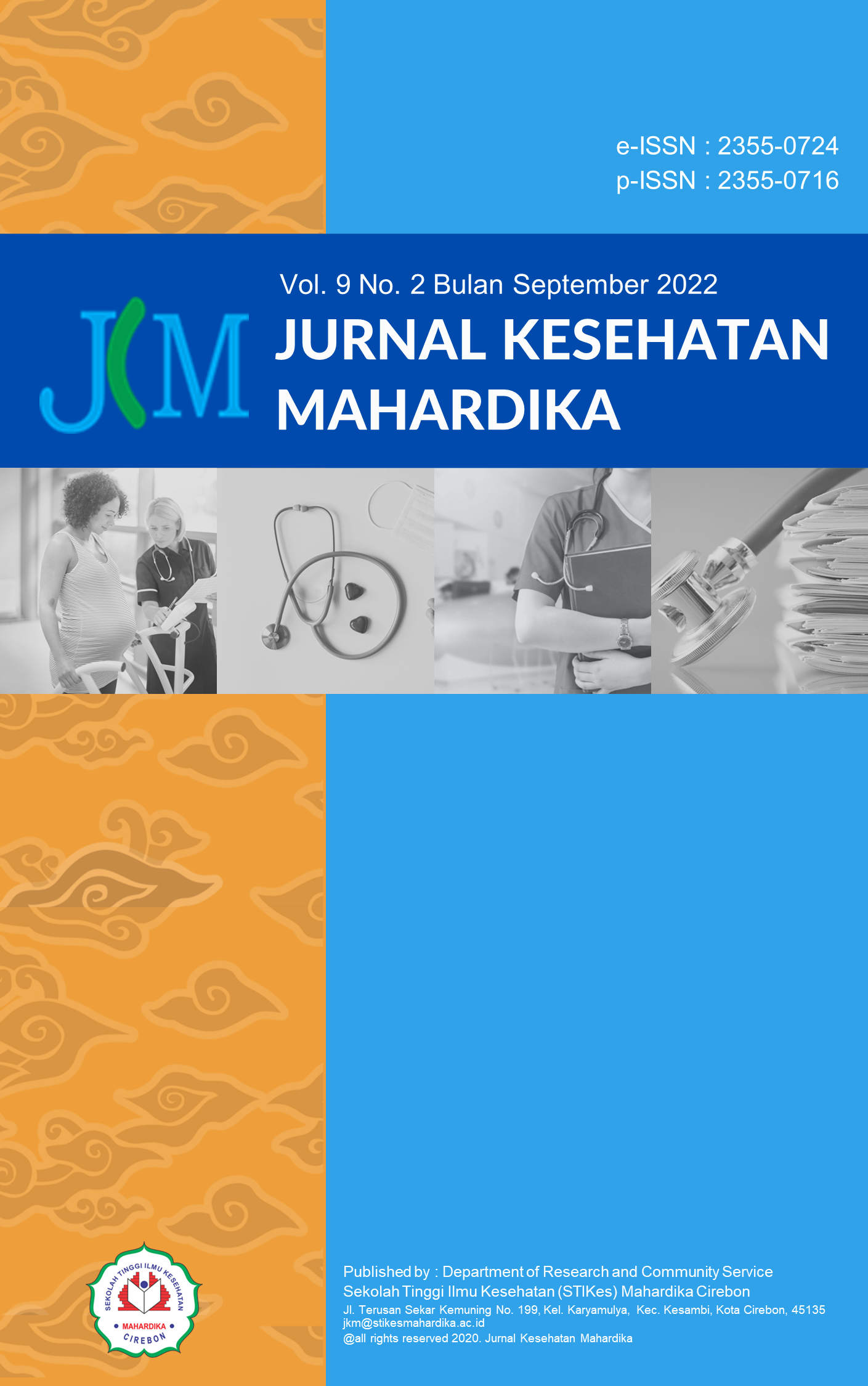 How to Cite
Yestika Shaleha, T., & Cahyati, Y. (2022). The Effectiveness of A Digital Story pocketbook in Improving emergency medical knowledge at SMK Yasbu Al-qomariyah Sodonghilir Tasikmalaya. Jurnal Kesehatan Mahardika, 9(2), 37–45. https://doi.org/10.54867/jkm.v9i2.119
Copyright & Licensing
Copyright (c) 2022 Jurnal Kesehatan Mahardika
This work is licensed under a Creative Commons Attribution-NoDerivatives 4.0 International License.