Overview of Diet in Diabetes Mellitus Patients at Cempaka Putih Public Health Center, Jakarta
Keywords:
Eating Behavior, Diabetes Mellitus
Abstract
Diabetes mellitus (DM) is a degenerative disease whose prevalence continues to increase worldwide. This can be seen from the medical record data obtained at thr cempaka putih  healt center, central Jakarta, diabetes  mellitus increased in 2021 as many as 3767 visits. This high incidence  is caused by several  things. One of them is the eating behavior of diabetes mellitus ptients in the working area of the cempaka putih  public health center. This study aims to determine the description of dietary behavior in patiens with diabetes mellitus. This research is a quantitative research is whit adescritive design. The number of samples in this study is 91 obtained through convecience  sampling and data collection using a questionnaire. The results of this study showed that the eating behavior of diabetes mellitus patients was very good as many as 70 people (76,9%). Suggestions are given so that every health worker can provide information on an ongoing basis to Diabetes Mellitus patients who seek treatment to be able to regulate their diet properly.
References
Alfiani, R., Ibrahim Rahmat, S. K., & Sugiyanto, M. K. 2020. Hubungan Peran Keluarga Dengan Pola Makan Penderita Diabetes Mellitustipe 2 Di Puskesmas Gamping 1 Sleman Yogyakarta, Disertasi, Universitas Aisyiyah Yogyakarta.
Amanina, A., Raharjo, Bejo, Nugroho,S.F., 2015. Hubungan Asupan Karbohidrat dan Serat Dengan Kejadian Diabetes MellitusTipe II di Wilayah Kerja Puskesmas Purwosari, Disertasi Universitas Muhammadiyah Surakarta.
Amir, S. M., Wungouw, H., Pangemanan, D., 2015. Kadar glukosa darah sewaktu pada pasien Diabetes Mellitustipe 2 di Puskesmas Bahu kota Manado. e-Biomedik, 3(1).
Anis, K., Nugroho, K. P. A., Natawirarindry, C., 2021. Gambaran Pola Makan Pra Lansia terkait Risiko Inflamasi Diabetes MellitusTipe 2 Pada masa Pandemi Covid-19 di Wilayah Kerja Puskesmas Sidorejo Lor, Kota Salatiga: Overview of Pre-Elderly Eating Patterns Related to the Inflammatory Risk of Type 2 Diabetes Mellitus During the Covid-19 Pandemic in the Work Area of the Sidorejo Lor Health Center, Salatiga City. Jurnal Sains dan Kesehatan, 3(6), 807-815.
Azrimaidaliza, 2011. Asupan Zat Gizi Dan Penyakit Diabetes Mellitus. Andalas Journal of Public Health.
Bistara, D. N., 2018, Hubungan Pola Makan Dengan Gula Darah Pada Penderita Diabetes Mellitus. Jurnal Kesehatan Vokasional (JKESVO), 3(1), 29-34.
Dafriani, P., 2017, Hubungan Pola Makan dan Aktifitas Fisik Terhadap Kejadian Diabetes Mellitusdi Poliklinik Penyakit Dalam RSUD dr. Rasidin Padang. NERS Jurnal Keperawatan, 13(2), 70-77.
Dewi, G. K.,Triseptinora, R., 2014, Gambaran diabetes militus dan pola makan pada lansia yang osteoporosis di panti sosial tresna werdha budi luhur kota jambi tahun 2014. Scientia Journal, 3(2), 115-122.
Fatimah, R. N., 2015, Diabetes Mellitustipe 2. Jurnal Majority, 4(5).
Febrianti, D., 2018, Pola Makan Pasien Rawat Jalan Dm Tipe 2 Di Rumah Sakit Pendidikan Unhas . Disertasi, Universitas Hasanuddin.
Hariawan, H., Fathoni, A., Purnamawati, D., 2019, Hubungan gaya hidup (pola makan dan aktivitas fisik) dengan kejadian Diabetes Mellitus di Rumah Sakit Umum Provinsi NTB. Jurnal Keperawatan Terpadu (Integrated Nursing Journal), 1(1), 1-7.
Kemenkes RI. 2014. Profil Kesehatan Indonesia Tahun 2014. Jakarta: Kementerian Kesehatan RI
Kurniasari, S., Sari, N. N., Warmi, H., 2020, Pola Makan Dengan Kadar Glukosa Darah Pada Penderita Diabetes MellitusTipe 2. Jurnal Riset Media Keperawatan, 3(1), 30-35.
Mirnawati Dewi, P., Hasan, F. E., Kusumawati, E., 2018, Gambaran Pola Makan Pasien Rawat Jalan Dm Tipe Ii Di Rumah Sakit Umum Bahteramas Provinsi Sulawesi Tenggara. Disertasi, Poltekkes Kemenkes Kendari).
Nasution, L. K., 2018, PENGARUH OBESITAS TERHADAP KEJADIAN DIABETES MELLITUSTIPE 2 PADA WANITA USIA SUBUR DI WILAYAH KERJA PUSKESMAS PINTUPADANG. Jurnal Muara Sains, Teknologi, Kedokteran dan Ilmu Kesehatan, 2(1), 240-246.
Notoatmodjo, S. (2010). Metodologi Penelitian Kesehatan, Rineka Cipta. Jakarta. Indonesia.
Notoatmodjo, S. (2014). Metode Penelitian Kesehatan Edisi. Revisi. Jakarta: Rineka Cipta.
Santoso,S dan Ranti L.A, 2004. Kesehatan Dan Gizi. Rineka Cipta. Jakarta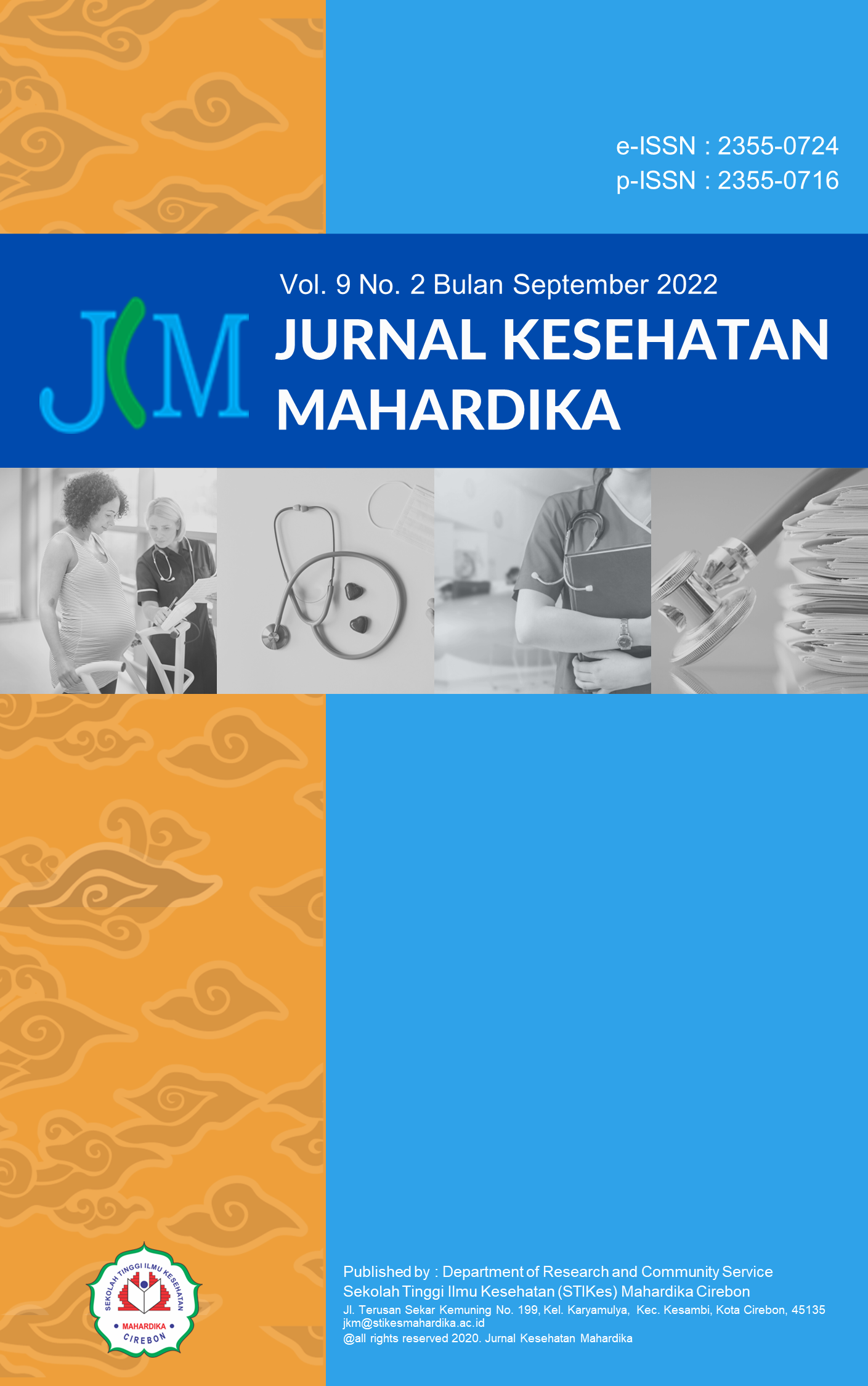 How to Cite
Marpaung, V., Trimawang Aji, Y. G. ., & Yenny. (2022). Overview of Diet in Diabetes Mellitus Patients at Cempaka Putih Public Health Center, Jakarta. Jurnal Kesehatan Mahardika, 9(2), 67–71. https://doi.org/10.54867/jkm.v9i2.122
Copyright & Licensing
Copyright (c) 2022 Jurnal Kesehatan Mahardika
This work is licensed under a Creative Commons Attribution-NoDerivatives 4.0 International License.