The Relationship Between Mother's Education And Mother's Support, And Anxiety Levels In Adolescents During Menarche
Keywords:
Mother's education, Mother's support, Anxiety during menarche
Abstract
Adolescence is known as puberty, marked by the arrival of the first menstruation (menarche) in young women. Some students who experience menarche feel anxious, confused, sad, tremble, become uncaring, or feel proud of themselves for becoming adults. Menarche causes anxiety in young women due to a lack of information and understanding about it. The purpose of this study was to determine the relationship between mother's education and mother's support, and anxiety levels in adolescents during menarche. This descriptive correlational research used a retrospective approach. The population in this study consisted of 154 female students who had experienced menarche, and the sample included 61 students. The results show that mother's support are related to anxiety levels during menarche. In conclusion, a teenager's readiness to face menarche is influenced by the mother's education, and parental support during menarche helps teenagers understand physiological changes, enabling them to anticipate and overcome anxiety about menarche.
References
Arista, D. F., Nasution, R. A., Keperawatan, P. S., Kedokteran, F., & Jambi, U. (2022). HUBUNGAN DUKUNGAN KELUARGA TERHADAP KESIAPAN REMAJA PUTRI MENGHADAPI HAID PERTAMA ( M ENARCHE ): STUDI LITERATUR. 1, 39–52.
BKKBN. (2016). Kajian Profil Penduduk Remaja (10-24 Tahun) : Ada Apa Dengan Remaja ?
Davis, J., Macintyre, A., Odagiri, M., Suriastini, W., Cordova, A., Huggett, C., Agius, P. A., Faiqoh, F., Budiyani, A. E., Quillet, C., Cronin, A. A., Diah, N. M., Triwahyunto, A., Luchters, S., & Kennedy, E. (2018). Menstrual hygiene management and school absenteeism among adolescent students in Indonesia: evidence from a cross-sectional school-based survey. Tropical Medicine and International Health, 23(12), 1350–1363. https://doi.org/10.1111/tmi.13159
Ernia. (2018). HUBUNGAN DUKUNGAN ORANG TUA DAN TEMAN SEBAYA DENGAN TINGKAT KECEMASAN REMAJA PUTRI DALAM MENGHADAPI MENARCHE PADA SISWI DI SD NEGERI 003 MUARA BADAK.
Fitriani, H., & Rohman, R. Y. (2016). Pengaruh konseling terhadap kecemasan remaja putri yang mengalami menarche 1. Jurnal Ilmu Keperawatan, IV(2), 85–94.
Herliasari, Z. et. a. (2022). Analisis Kesiapan Menghadapi Menarche Remaja Awal di SDN Jakasampurna X Kota Bekasi Tahun 2022. JAKHKJ, 8(1).
Kumalasari, I. & Andhyantoro, I. (2012). Kesehatan Reproduksi untuk Mahasiswa Kebidanan dan Keperawatan. Salemba Medika.
Kusmiran, E. (2012). Kesehatan Reproduksi Remaja dan Wanita. Salemba Medika.
Mason, L., Nyothach, E., Alexander, K., Odhiambo, F. O., Eleveld, A., Vulule, J., Rheingans, R., Laserson, K. F., Mohammed, A., & Phillips-Howard, P. A. (2013). "We keep it secret so no one should know" - A qualitative study to explore young schoolgirls attitudes and experiences with menstruation in rural Western Kenya. PLoS ONE, 8(11). https://doi.org/10.1371/journal.pone.0079132
Moodi, M., Shahnazi, H., Sharifirad, G.-R., & Zamanipour, N. (2013). Evaluating puberty health program effect on knowledge increase among female intermediate and high school students in Birjand, Iran. Journal of Education and Health Promotion, 2(1), 57. https://doi.org/10.4103/2277-9531.120851
Nilawati, I., Sumarni, S., & Santjaka, A. (2013). Hubungan Dukungan Ibu Dengan Kecemasan Remaja Menghadapi Menarche Pada Remaja Putri Di Cilacap. Bidan Prada : Jurnal Ilmiah Kebidanan, 4(1), 178–189. http://ojs.akbidylpp.ac.id/index.php/Prada/article/view/76
Pawestri, P., Rejeki, S., & Yolanda, M. (2023). Family Support for Anxiety Facing Menarche in School-Age Children. 18. https://doi.org/10.26714/mki.6.1.2023.39-45
Prawirohardjo, S. (2014). Ilmu Kebidanan. PT. Bina Pustaka.
Putra, A. Y. R. (2017). Hubungan Pengetahuan Tentang Menarche Terhadap Tingkat Kecemasan Pada Remaja Putri Awal. Skripsi. https://repo.stikesicme-jbg.ac.id/251/1/SKRIPSI yamani.pdf
Setiowati, N. (2015). Hubungan Dukungan Ibu Dengan Kesiapan Menghadapi Menarche Pada Siswi Kelas V Dan Vi Mi Muhammadiyah Bonjor Tretep Temanggung. Skripsi.
Sibagariang, E. E. (2016). Kesehatan Reproduksi Wanita (Revisi). Trans Info Media.
Simanjuntak, M., Manurung, S., Riana, L., & Payung, H. (2013). Perilaku Remaja Putri Menghadapi Menarche Berdasarkan Nilai Budaya Batak Adolescent Girls Behaviour Encountering Menarche Phase According to. Jurnal Kesehatan Masyarakat Nasional, 7(9), 421–425.
Taimuri, M. A., & Sumbal, A. (2022). Are female adolescents in low and middle-income countries prepared for menarche? Annals of Medicine and Surgery, 82(September), 104658. https://doi.org/10.1016/j.amsu.2022.104658
WHO. (2018). Maternal Mortality.
Winarti, A., Fatimah, F. S., & Rizky, W. (2017). Pengaruh Pendidikan Kesehatan Terhadap Kecemasan Tentang Menarche pada Siswi Kelas V Sekolah Dasar. Jurnal Ners Dan Kebidanan Indonesia, 5(1), 51. https://doi.org/10.21927/jnki.2017.5(1).51-57
Yulia, S. et. a. (2021). HUBUNGAN DUKUNGAN IBU DENGAN KESIAPAN REMAJA PUTRI MENGHADAPI MENARCHE DI SMP N II SUKOHARJO. 1.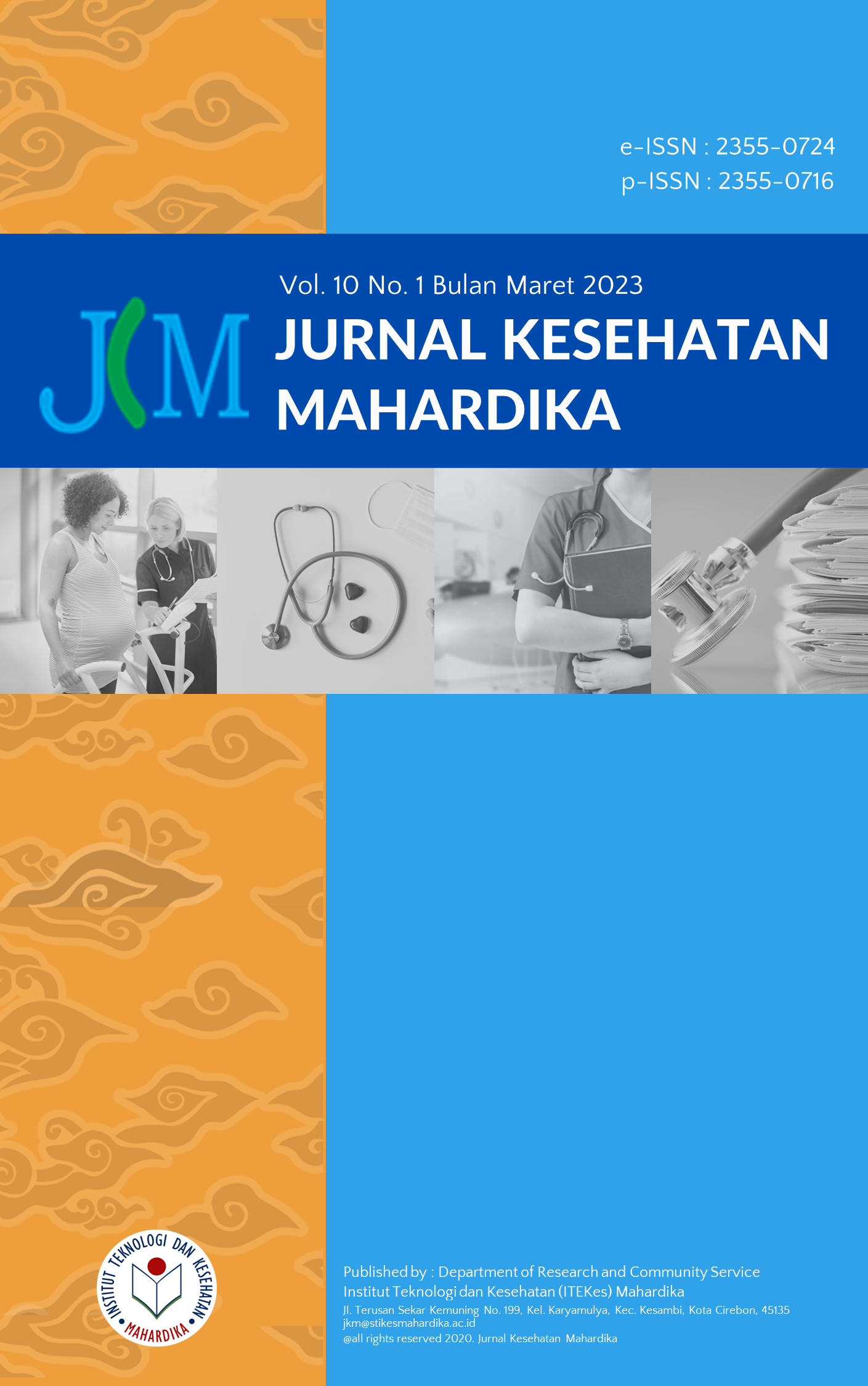 Downloads
How to Cite
Rahayu, R. (2023). The Relationship Between Mother's Education And Mother's Support, And Anxiety Levels In Adolescents During Menarche. Jurnal Kesehatan Mahardika, 10(1), 60–67. https://doi.org/10.54867/jkm.v10i1.165
License
Copyright (c) 2023 Jurnal Kesehatan Mahardika
This work is licensed under a Creative Commons Attribution-NoDerivatives 4.0 International License.